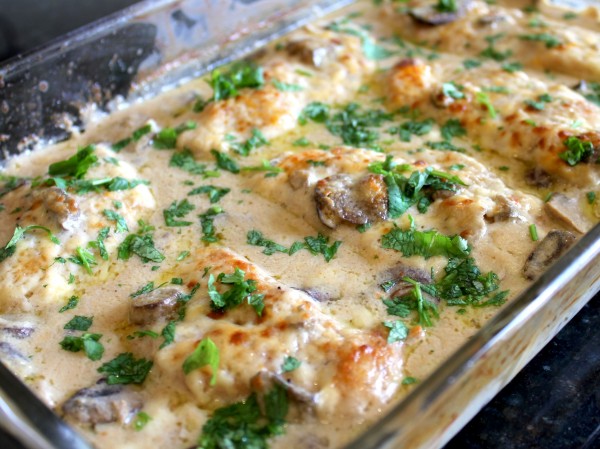 If you know me, you know I love pinterest and blogs to get my inspiration for cooking. I hate having to think of dinners on my own and find that if left to my own devices, I would rather starve then cook, if it's left up to me. I am far too busy with crafts, reading and dogs to want to spend hours cooking over a hot stove, especially in the summer.
I made this for my husband the other night. I can not take credit for the recipe, I got it from
Cooking with Sugar
. I made some small changes in the recipe based on preference. It came out so good. Beyond good actually. My husband ate it right up and asked for more.
Chicken Gloria
Prep Time: 25 minutes
Start to Finish: 1 hour
Servings: 6
Ingredients:
3 skinless boneless chicken breasts, trimmed and filleted in half lengthwise (I used six pieces of thawed from frozen chicken)
1/3 cup of flour
3 tablespoons vegetable oil
2 tablespoons of butter
1 (8 oz) container of sliced fresh mushrooms
1/2 cup of sherry wine
1 small can of condensed cream of mushroom soup
1/2 cup whole milk (I used 1/4 cup skim milk and 1/4 cup cream) - I don't buy whole milk
6 slices of Muenster cheese (Here I used shredded Parmesan instead)
3 tablespoons chopped fresh parsley for garnish
Salt and pepper to taste
Directions:
Preheat oven to 350°F
Season both sides of the chicken with salt and pepper, dredge lightly in flour to coat both sides. Shake off excess.
Add oil to frying pan and brown chicken in batches on both sides. You don't need to cook the chicken completely. It will finish cooking in the oven. Transfer the chicken to a 9×13-inch baking dish.
Add the butter to the frying pan and let it melt over medium high heat. Add mushrooms, season with salt and pepper and brown mushrooms until golden. Then add the sherry wine and cook for another minute or two. Add the creamy mushroom soup and milk and mix well.
Pour sauce over the chicken breasts, cover with foil and bake in oven for about 30 minutes. Remove from oven and top each piece of chicken with one slice of Muenster cheese. You can fold the cheese in half if it is too wide for the breast.
Place chicken back in oven uncovered and broil for 1-2 minutes to brown the cheese. Remove from the oven and set aside to cool.
Top with chopped fresh parsley and serve.
You have to try this recipe. It's so delicious. If you like mushrooms, this is a must try.
I served it over angel hair pasta. the sauce makes an amazing light sauce to the noodles.